Decaf Guatemala from Bad Hand Coffee
This month's coffee comes from Bad Hand Coffee, a recommendation from many of our South Coast members, and because lots of us are trying to dial down on the frenzy at the moment, a decaf option - to show that coffee can be just about the enjoyment of flavour, not just the hit of caffiene.
About Bad Hand Coffee
We spoke to Luke from Bad Hand to ask about their business, the south-coast scene, the double edged sword of mental health when running small businesses, and building saunas during lockdown.

Leapers: What inspired you to start Bad Hand Coffee, and how are things going right now?

Luke: We ran cafes for years and moving into coffee was the next logical step for us to grow our knowledge. I think we're in a unique position as a coffee roaster as we ran venues before becoming roasters. This gives us a better insight into how to best run a cafe which you wouldn't necessarily get if you did this the other way around.

Things are genuinely going really well. The initial lockdowns were certainly scary and we had no idea if we would be able to last the first few months. Thankfully a huge number of our wholesale customers settled up bills which changed everything. From there our online sales went nuts. Now we're in a position where we've had to buy a bigger roaster to keep up with online and wholesale demand.

Is Bad Hand your first business, and what's been the most surprising aspect of starting a business?

We used to own a couple cafes down here in Bournemouth (Boscanova & South Coast Roast). We initially started roasting coffee for ourselves and did this under the name of one of our cafes. We did this for a little while until we found an old f'd up tyre garage in the center of Bournemouth.

We bought the building and decided to focus on roasting coffee instead of running the cafes. On selling the cafes we decided we needed a new name to roast under. Joel (one of the owners) used to work with a guy out in the States whose name was Bad Hand and thus Bad Hand Coffee was Born :-)

The most surprising thing we've found with running a roastery is just the huge amount of space you need. We're pretty pushed for space where we are as we also rent out other sections of the warehouse to other local businesses, all of which are friends of ours. We've had to build internal extensions to accommodate the new roaster for example because it simply would have nowhere to go otherwise.

Leapers' mission is to support the mental health of the self-employed and small businesses - what impact, positive or negative, do you say running your own business has upon your emotional wellbeing?

Well let's face it, it's absolutely a double edged sword isn't it.

The pay off I guess is that you reap what you sow and if you're diligent and put the work in the positive is that you get the fruits of your labor, and don't have to answer to anyone but yourself.

That's also part of the negative though. You can become so consumed by the difficulties of the moment that it's hard to see the light at the end of the tunnel. In our experience we've found it best to just let certain things happen and roll with it, it usually pans out ok in the end or you learn a valuable lesson.

What does your support network look like - who do you turn to when things are hard, or celebrate with when things are going well?

I think we're very very fortunate to be a small team of 5 and we're all best friends. We're also in a position to be able to create our own style of working environment.

For example we built a sauna during lockdown so we could just take 5 on quieter days, and throughout the year we go swimming in the sea and have done for about 5 years now. These things have really created a very unique working environment, it's our social life as well as work life. When the days are hard we make sure we make time for an afternoon sauna or get together for a morning yoga session upstairs.

Finding an outlet is vital for productivity because working like a dog will only get you so far. Some of our best plans have come from sauna chats and morning swims in the dead of winter.

The UK's south coast seems to be a hot bed for small independent and creative businesses - why do you think that might be?

In all honesty I'm not really sure. I think it only takes a few die hard businesses doing something of great quality for a sustained period to show that something can work in the long term and isn't just a fad or something that will work in the big city. I think maybe the pandemic helped too in a way. Folks were supporting local much more which maybe brought light to independent businesses that would otherwise have gone under the radar. Certainly events such as the South Coast Makers Market has helped highlight some slammin' local artists and makers and given them an extra platform to thrive from.

What advice would you give to someone who was considering starting their own small business?

Read 'Let My People Go Surfing'! It's an absolutely stellar book and one which we have based alot of our working lifestyle around. Also I suppose it's important to remember 'why' you have started to start your own business so that you don't get dragged too far off course, having said that it's also important to be adaptable and open to peoples suggestions. Everyone loves to add their 2 pennies when it comes to giving advice but as long as the advice is free use it to your advantage.

Lastly, make lists. Loads of lists. Lists help get all the chaos out of your head and onto something that you can actually look at and work through in a methodical manner. I often find that when I make a list there are fewer things on it than I thought there were when it was all just in my head. Crossing things off your list is also a great little boost so always start each list with 'make a list'. That way you can cross it off as soon as you've completed your days 'To Do's'.
Visit Bad Hand Coffee.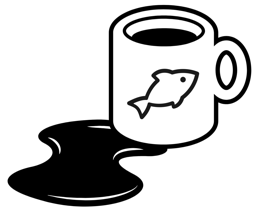 Tag us with your cuppa
Drinking a cup of coffee with us this morning?
Tag us on Instagram @leapers.co